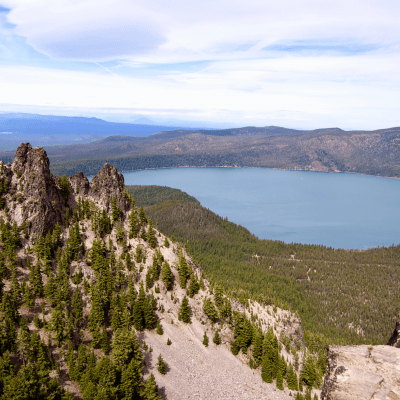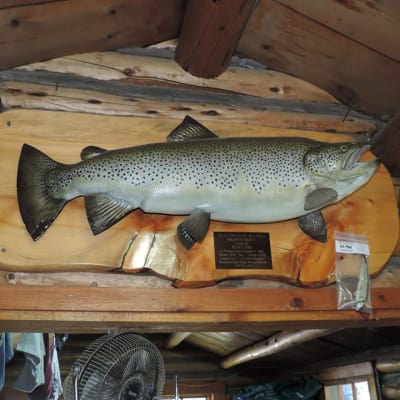 Fishing
Paulina Lake was formed by ancient volcanic activity in the caldera of Mt. Newberry. Deep, cool waters give us a great abundance of fish and a diversity that is sure to make any angler smile. Minerals from hot springs, raindrops, and snowflakes feed the rich food chains of Paulina, making the fishing some of the best in the West! Not to mention that our lake has the record for largest Brown Trout caught in the 5 western states!
We hold two of the state records for German Brown Trout: 27 3/4 in 1993 and 28lb 5oz in 2002. We also have Kokanee and Rainbow.

Ron Lane of Olancha, California, came to Oregon to fish for brown trout at Paulina Lake, hoping for another in a long list of double-digit browns he has caught over the years. Trolling in shallow water with one of Allan Cole's seven-inch minnow A.C. Plugs, Lane got a lot more than he bargained for.
He tied into a fish that battled him for some 25 minutes before being netted. He knew it was a really big fish, but had no idea it was state record-sized. It was weighed on a certified scale, At 28-pounds, 5-ounces, the fish topped the previous state record, also taken from Paulina Lake.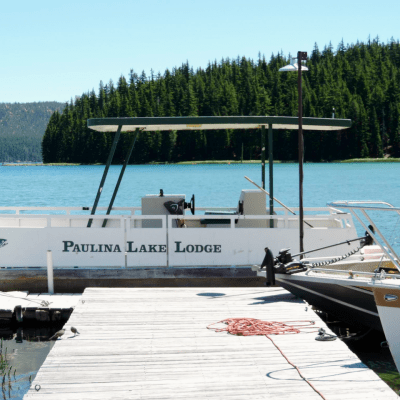 Boating
Paulina Lake is arguably one of the best lakes to boat and fish in the Deschutes National Forest and Central Oregon. It's one of the few lakes that permits motorized boats, giving anglers with quick and easy access to their favorite fishing hole.
Summer season: Late April (weather permitting) to October 31st.
Speed limit on the lake is 10 MPH.
Boat Rentals
Row Boats:
1 Hour - $20
Full Day - $80
Boat w/ Motor (FISHING ONLY):
2 HR $ 50.00
1/2 Day $ 70.00
Full Day $ 90.00
Patio Boat:
1/2 Day $ 150.00
Full Day $ 200.00
Kayaks,Paddle Boards,Peddle Boats and Canoes:
1 Hour - $20
Full Day - $80
Rental Info:
2 hour minimum on all rentals. Life jackets and one tank of gas furnished with all rentals.
Note: ALL children age 12 and under must wear the provided life jackets.
Paddle Boats include: Pedal Boats, Paddle Boards, Kayaks and Canoes.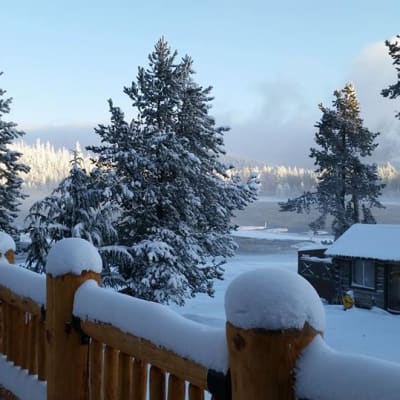 Winter
Winter Recreation at Paulina Lake, Central Oregon
The resort is snowbound from 10 Mile Snow Park, which is 3 miles from the lodge.
Winter season: Our winter season is weather dependent and changes from year to year but our season is usually mid-December through mid-March.
Contact us for an update or keep an eye on our Facebook page.
In the winter, you can go snowmobiling, snowshoeing and cross-country skiing right from the front door of your toasty warm cabin. We have 150 miles of groomed snowmobile trails and several ungroomed cross-country trails.
We also offer Sno-Cat shuttles on Friday and Saturday nights during the winter.

ROUND TRIP SNO-CAT SHUTTLE (WINTER ONLY):
Shuttles for lunch and dinner: $50.00 per person round trip
Shuttles for cabins people and gear: $200.00 round trip
Come and stay with us at Paulina lake lodge and let us show you what Central Oregon winter fun is all about!
Stop by Paulina Lodge Restaurant for hot chocolate and homemade soup or chili.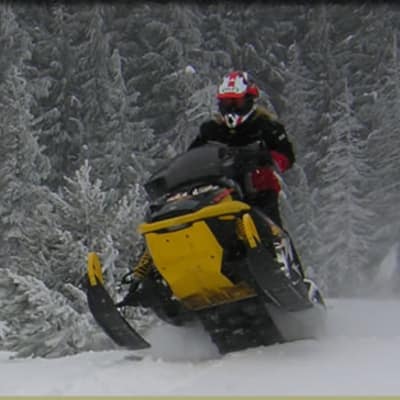 Snowmobiling
333,000 Acres of Snowy Playground
We have 150 miles of groomed snowmobile trails on 330,000 acres of designated snowmobile "playground" area available! There are several large play areas to ride in, and if you are hungry the tour can stop by Paulina Lodge Restaurant for hot chocolate and homemade soup or chili.
Winter season: mid-December through mid-March.
Tours and rentals available! Call us:
541-536-2240
Sno-Park Permits Required